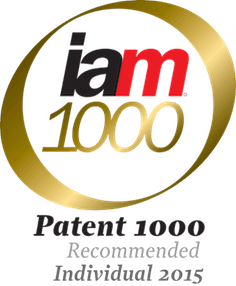 I'm very pleased to have been selected as a leading individual for patent prosecution in Singapore in the IAM 1000: The World's Leading Patent Practitioners 2015:
Chong-Yee Khoo is a "rare bird – he manages to blend staggering legal skill with unparalleled insight into the life sciences".
The IAM 1000 is compiled annually by Intellectual Asset Magazine and identifies the top patent professionals in key jurisdictions around the globe.
We love it when our clients appreciate the work we do, but it is also nice to be recognised by the industry as a leader in the field.
According to Intellectual Asset Magazine:
The [IAM 1000] guide has been compiled following an extensive research process. Over five months, IAM conducted in the region of 1,500 interviews with numerous attorneys at law, patent attorneys and in-house counsel to gather market intelligence on the leading players in the field.

Individuals qualify for a listing in the IAM Patent 1000 when they receive sufficient positive feedback from peers and clients with knowledge of their practice and the market within which they operate. In those markets in which practitioners have narrowed the focus of their work, we have presented tables highlighting the leaders in the respective areas of prosecution, transactions and litigation.

Only those individuals identified by market sources for their exceptional skill sets and profound insights into patent matters feature in the IAM Patent 1000.

Our aim is to ensure that the IAM Patent 1000 is as accurate as possible. We seek to produce the definitive list of the world's leading patent experts, on the basis of feedback received from those operating in the market.