We are pleased to announce that the Tweetup at the 2016 INTA Annual Meeting in Orlando will be held at at the Baskin Robbins ice cream store on International Drive on Monday, 23 May 2016 from 3 pm onwards.
The Baskin Robbins outlet (which also contains a Dunkin' Donuts) is located at 7440 International Drive, just a few minutes walk from the Orange County Convention Center.
Read on for more information on the Tweetup, including directions and a backup venue in case of bad weather.
Given the sub-tropical climate of the meeting venue, we thought it would be nice to relax over some ice cream this year. Donuts and/or coffee are optional, but recommended for tired minds and bodies.
Please feel free to wander by from 3 pm onwards. People tend to come and go and we'll be there for a couple of hours at least.
If you're interested in attending the Tweetup, please register at the INTA Orlando Tweetup page. We look forward to seeing you at the INTA Tweetup from 3 pm on the Monday.
Directions from Orange County Convention Center to Baskin Robbins
The easiest way to get to the venue from the OCCC is to take the covered walkway (red on the map below) to the Rosen Centre Hotel.
The pedestrian walkway is called the "Rosen Centre Skywalk", and it links the Orange County Convention at its south east corner to the Rosen Centre Hotel.
The Baskin Robbins outlet is just east of the Rosen Centre Hotel, across Hawaiian Court. (Updated 20 May 2016) Head out of the main entrance of the hotel and turn right. At the end of the road, with Walgreens ahead of you, cross the road. Head right along the pedestrian path (away from Walgreens), until you see the Red Lobster parking sign. Turn left into the car park and walk towards Red Lobster. Baskin Robbins is between Red Lobster and McDonald's.
Please take care when crossing the road and watch out for traffic in the car park.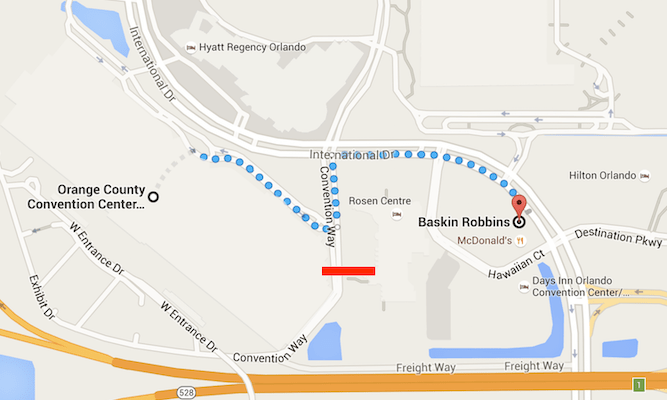 The alternative route, marked by dots on the map, is slightly longer. Google Maps doesn't know about the covered walkway between the OCCC and the Rosen Centre Hotel and will send you along Convention Way and International Drive. If you follow this route, go past Denny's and Red Lobster and the Baskin Robbins outlet will be on your right, before McDonald's.
Backup Venue for INTA Tweetup 2016 Orlando
If the weather is bad, we will meet at Meeting Point 3 of the Orange County Convention Center. We will announce any change in venue on Twitter via the #INTA_Tweetup.