We are pleased to announce that the Tweetup at the 2017 INTA Annual Meeting in Barcelona will be held at at Farggi Cafe in the Grand Via 2 shopping mall on Monday, 22 May 2017 from 1:30 pm onwards.
The Farggi Cafe is situated in the Centro Comercial Gran Via 2, which is a shopping mall just a few minutes walk from the Hall 8 of the Fira Grand Via Convention Centre.
Please feel free to wander by from 1:30 pm onwards. People tend to come and go and we'll be there for a couple of hours at least.
Farggi Cafe serves a variety of food, including coffee, tea, sorbets, ice creams, gelati, cakes, sandwiches and crepes.
If you're interested in attending the Tweetup, please register at the INTA Barcelona Tweetup page. We look forward to seeing you at the INTA Tweetup from 1:30 pm on the Monday.
Directions from Hall 8 of the Fira Grand Via to Farggi Cafe Grand Via 2
Leave the convention centre and head right up the slope towards Carrer de l'Alumini.
Turn right and walk down Carrer de l'Alumini towards Carrer de les Ciències. You can also get the 79 bus or the 125 bus on Carrer de l'Alumini and get off at the end of the road.
Cross the road and head left towards Centro Commercial Gran Via 2 l'Hospitalet ("Gran Via 2"). This is the building with the giant Carrefour sign.
Don't enter the mall but walk straight down the path next to the building, parallel to the main road (Carrer de les Ciències), past the Carrefour sign.
At the end of the building, you will see an open area with cafes. Turn right you will see Farrgi Cafe ahead of you (it's outside the mall).
Please take care when crossing the road and watch out for traffic.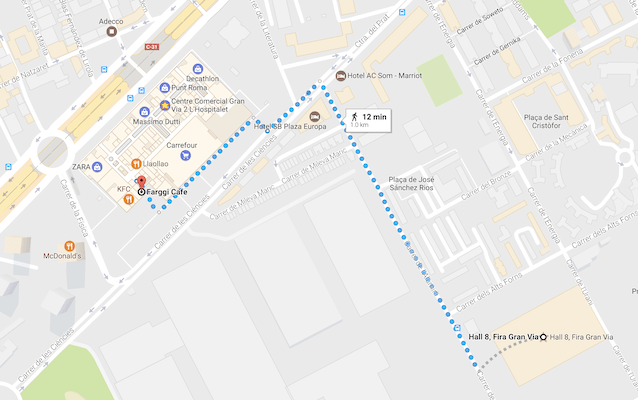 Open in Google Maps
Backup Venue for INTA Tweetup 2017 Barcelona
If the weather is bad, we will meet at Meeting Point 2 of the Hall 8 of the Fira Grand Via. We will announce any change in venue on Twitter via the #INTA_Tweetup.